About The Event
A four days International Seminar and Workshop on CRISPR/Cas-based Plant Functional Genomics and Computational Modeling (ISWCPC-2023) will be organized by CSIR-North East Institute of Science and Technology (NEIST) during January 18-21, 2023 at CSIR-NEIST, Jorhat, Assam, India. The main focus of the seminar and workshop is to obtain a broad view of the recent applications and developments in CRISPR/Cas-based technology and Computational Modeling and to gain insight into where trends in the field and Entrepreneurial prospects are heading by the renowned experts. This will provide an ideal platform to the participants to present their research work, interact, debate and disseminate ideas amongst the distinguished professionals, eminent scientists, technologist and industrialist. This event will be organized in both physical and online mode. This grand scientific event on CRISPR/Cas-based Plant Functional Genomics and Computational Modeling will be the first of its kind in North Eastern Region (NER) and to make the event a great success, the participation, support, and co-operation from everyone relevant to the field across India and world is very much essential. On behalf of the local organizing committee, International Seminar and Workshop on CRISPR/Cas-based Plant Functional Genomics and Computational Modeling (ISWCPC-2023), it is our immense pleasure to invite you to participate in this event and explore the opportunities.
Where
CSIR - North East Institute of Science and Technology(NEIST),
Jorhat, Assam - 785006.
When
Wednesday to Saturday
18 - 21, January 2023
---
Institute at a Glance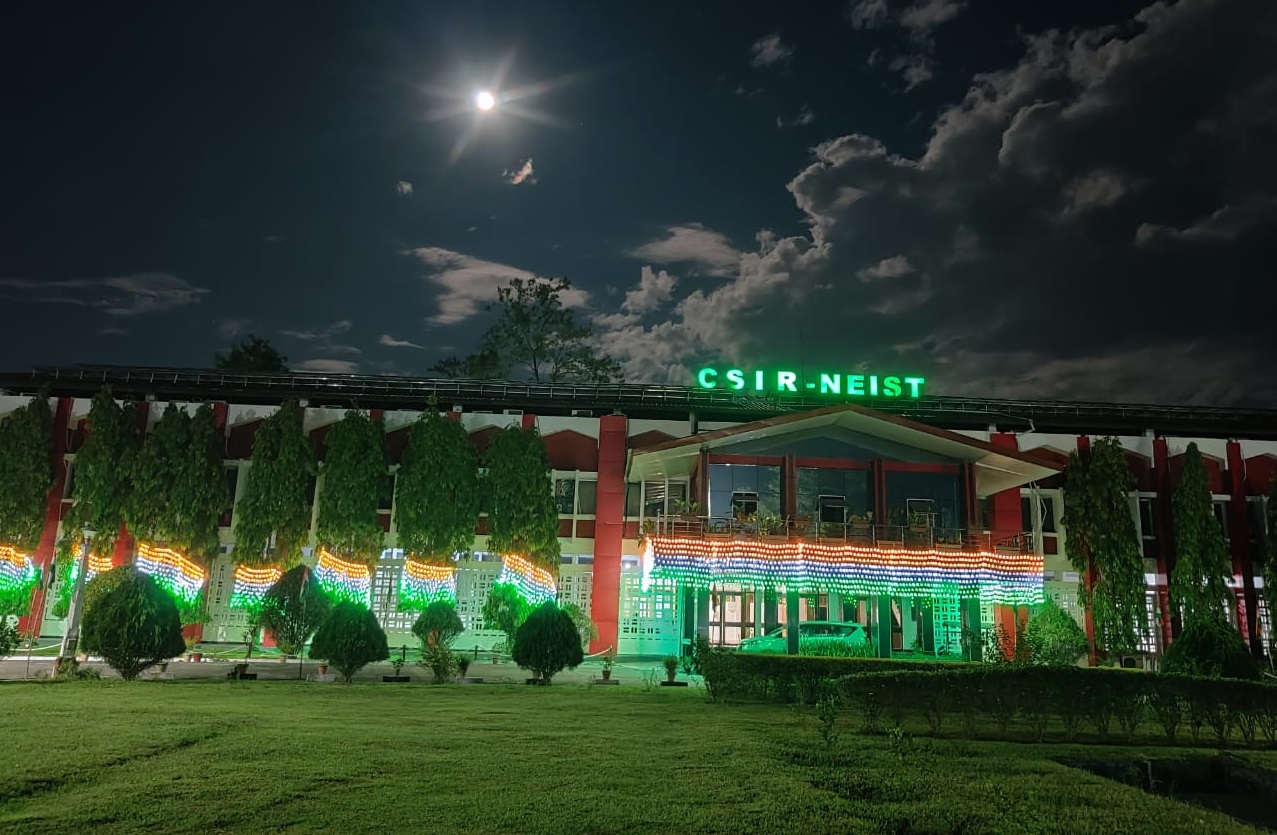 North East Institute of Science and Technology (NEIST), Jorhat, Assam is a premier institute engaged in multidisciplinary R&D work under the flagship of the Council of Scientific and Industrial Research (CSIR) since its inception in the year 1961 under its maiden name Regional Research Laboratory (RRL), Jorhat, Assam. CSIR-NEIST takes great pride in accomplishing milestones in scientific and technological missions in service of the nation. The institute caters extensively to the research and development activities in the entire North Eastern Region (NER) of India which is an abode of natural resources like oil and natural gas, minerals, traditional medicinal and aromatic plants, tea, indigenous rice varieties, etc. The Institute has successfully celebrated the Diamond Jubilee in the year 2022 and has generated more than 100 technologies in the areas of Biology, Agro-technology, Material Science and Petroleum Research. Under the flagship of Science & Technology Intervention in North East- ern Region (STINER), Aroma Mission and BioNEST incubator, NEIST has been dedicatedly working on developing the skills and profession of farmers and artisan community of NER through Science & Technological intervention along with that mentoring and nurturing the entrepreneurial skillset. As the most recent contribution, a Center for Infectious Disease (CID) is established to strengthen the capacity and the capability building in the NER to carry out biomedical research on diseases having priority in the national health program and unique to the region and bring translational interventions for the society in terms of surveillance, diagnostics, theraputics, and other solutions. A flagship facility of CID is the Next Generation Genomics Facility (NGGF), harboring first-generation Sanger Sequencer, second-generation NGS platform (Illumina), and third-generation sequencing platform (Oxford Nanopore Tech- nologies), which has catered to the need of genomic sequencing works of the institute and the NER, particularly during the most critical Covid-19 pandemic.
Several accomplishments in areas like Natural Products Chemistry, Plant functional Genomics, Medicinal Aromatic plants, Agro-technologies, Petroleum technology, Herbal Chemical Technology, Ecology and Environmental Technology, Geotechnical investigations, Design and Structural Mechanical Engineering, and recently established state-of-the-art Advanced Computation and Data Science (ACDS) division, have paved the way to constantly benefit the society through basic and applied research interventions. The Biological Science and Technological Division (BSTD) has undertaken advanced biological research in the areas of microbial technology, insect value-added product development, and most recent breakthrough technologies like CRISPR/Cas-based genome editing and translational genomics for developing abiotic and biotic stress tolerant crops. With the advanced technologies, instrumentation and most enthusiastic scientific human resources, CSIR-NEIST has been holding a premier space in leading science in the NER as well as in the country towards societal benefit and self-sustainability.
Event Speakers
Lead speakers in Thematic Areas
Computational Modeling, Genomics and Systems Biology
---
CRISPR/Cas-based Genome Editing & Plant Functional Genomics
---
Biotechnology-based Entrepreneurship Development
Event Schedule
Tentative Schedule of the Event
Inaugural Session
Book Launch
Session I: CRISPR/Cas based computational modeling, genomics & biotechnology
Keynote Address 1Keynote Address 2Keynote Address 3
Inauguration of CRISPR Lab and Shade Net House/ Genome Editing
Technical Talks
Session II: Biotechnology based Entrepreneurship/ Industry prospects in India
Keynote AddressTechnical TalksWelcome Dinner
Session I: CRISPR/Cas based plant functional genomics for crop improvement
Keynote Address
Technical Talks (Part 1)
Technical Talks (Part 3)
Panel Discussion:CRISPR/Cas: Present and Future for Indian Scenario
Poster/Oral Presentation Session
Valedictory function & Award distribution Cultural evening. Dinner
Hands-on workshop on computational biology (Part 1)
Hands-on workshop on computational biology (Part 2)
Hands-on workshop on CRISPR/Cas genome editing pipeline (Part 1)
Hands-on workshop on CRISPR/Cas genome editing pipeline (Part 2). Dinner and Networking
Hands-on workshop on Functional Genomics (Part 1)
Hands-on workshop on Functional Genomics (Part 1)
Hands-on workshop on Functional Genomics (Part 2)
Visit to labs and facilities of CSIR-NEIST
Dinner
Event Venue
Event venue location info and gallery
J N Baruah Auditorium CSIR - NEIST Complex,
Jorhat, Assam
Thematic Areas
of the Event
Facilities and Equipment
Relevant to The Workshop
Registration Details
Mode of the Event
---
The seminar will be conducted in hybrid (online and offline) mode and the workshop will be conducted through physical participation.
Target Disciplines and Attendees
---
Students, Researchers, Faculties, Scientists, Entrepreneurs and Industry Professionals from the discipline of Biological/Life Sciences from India and abroad.
Call for Research Abstract
---
Research abstracts, broadly within the scope of any biological sciences discipline, written in English language (max 250 words) to be submitted by the interested participants. Abstracts can be submitted electronically during the registration using the link https://neist.res.in-/iswcpc-2023/ (only .doc and .docx files will be accepted with a maximum size of 5MB). Abstracts will be published in seminar and workshop compendium. A poster (Width: 1m, Height: 1.5m) depicting the major research findings presented in the abstract need to be placed in the poster session during the event (offline mode only). Selected few abstracts will be given chance for oral presentations. The participants applying for online mode only will not be considered for poster or oral presentation. However, their abstracts will be published in the compendium. Hands-on training will be given to only 25 registered participants on a first come first served basis by the in-house and invited experts during the workshop. There will be awards for best oral and poster presentations. Certificate will be given to all the registered participants.
Registration Fee (INR) #
Registration Fee (INR) #
Participants
Offline
Online
Seminar
Seminar and Workshop*
Seminar
Students, Research Scholars and Postdocs
1500
5000
1000
Academic Faculty & Scientists
3000
6000
1500
Industry Professionals
5000
8000
2500
Participants from Abroad
5000
10000
2500
Late Registration
+ 500
Registration Open
Note:-
---
# Registration fee includes seminar and workshop kit, abstract book, lunch, high tea and dinner throughout the event.
* Though the symposium is for all the registered participants the workshop is only for selected 25 participants through offline mode on early registration basis.
Late Registration
---
The seminar will be conducted in hybrid (online and offline) mode and the workshop will be conducted through physical participation.
Accommodation
---
Accommodation will be provided only for workshop participants at CSIR-NEIST guest house or hostel based on availability. Other participants have to make their own arrangements for accomodation. The conveners may be contacted for arranging the paid accommodation in Jorhat city close to the event venue.
Bank Account Details for Payment of Registration Fee
---

		Name of the Bank		:	STATE BANK OF INDIA
		Branch				:	RRL JORHAT BRANCH
		Place				:	JORHAT
		Contact No.			:	(0376) 2370126
		IFSC Code			:	SBIN0005604
		MICR Code			:	785002007
		NEIST Account			:	DIRECTOR, NEIST
		Account No.			:	00000030266871392
		
Important Dates
of the Event
Dates for Registration and Abstract Submission
---

	Registration and abstract submission starts	:	16th September 2022
	Abstract submission ends			:	16th November 2022
	Registration ends				:	1st December 2022
	Final date of late registration			:	1st January 2023
		
Latest Updates
---

	Registration for Seminar and Workshop (Offline) 	  : Closed
	Registration and Abstract Submission for Seminar (Hybrid) : Extended till 10th December 2022
	Registration for Seminar (Hybrid) only 			  : Extended till 15th January 2023
		
Sponsors

















Contact Us
How to Reach the Location
The CSIR-NEIST is located at Jorhat, Assam, a North Eastern Region of India. It is about 300 km from Guwahati International Airport, 150 km from Dibrugarh Airport and 120 km from Dimapur Airport. Jorhat can be reached through bus, taxi, train or flight from Guwahati, Dibrugarh and Dimapur. There are also direct flights to Jorhat from Kolkata and Bangalore. Jorhat can be reached by flight from other metro cities through connecting flight from Kolkata, Guwahati and Dibrugarh. Local taxies namely, City Cab (+91-8638196808), U-rent (+91-8881388829), Obey Cab (+91-8822999099) and Autos are available 24 x 7 to reach the venue from Jorhat airport (12 km), railway station (10 km) and bus station (6 km). Please contact organizers for any information. The contact details of concerned organizing members will be provided to the registered participants at the earliest. Link for the Venue.
Address
CSIR-NEIST, Jorhat, Assam, India.
Phone Number
+91-8197231132
Email
iswcpc2023@gmail.com